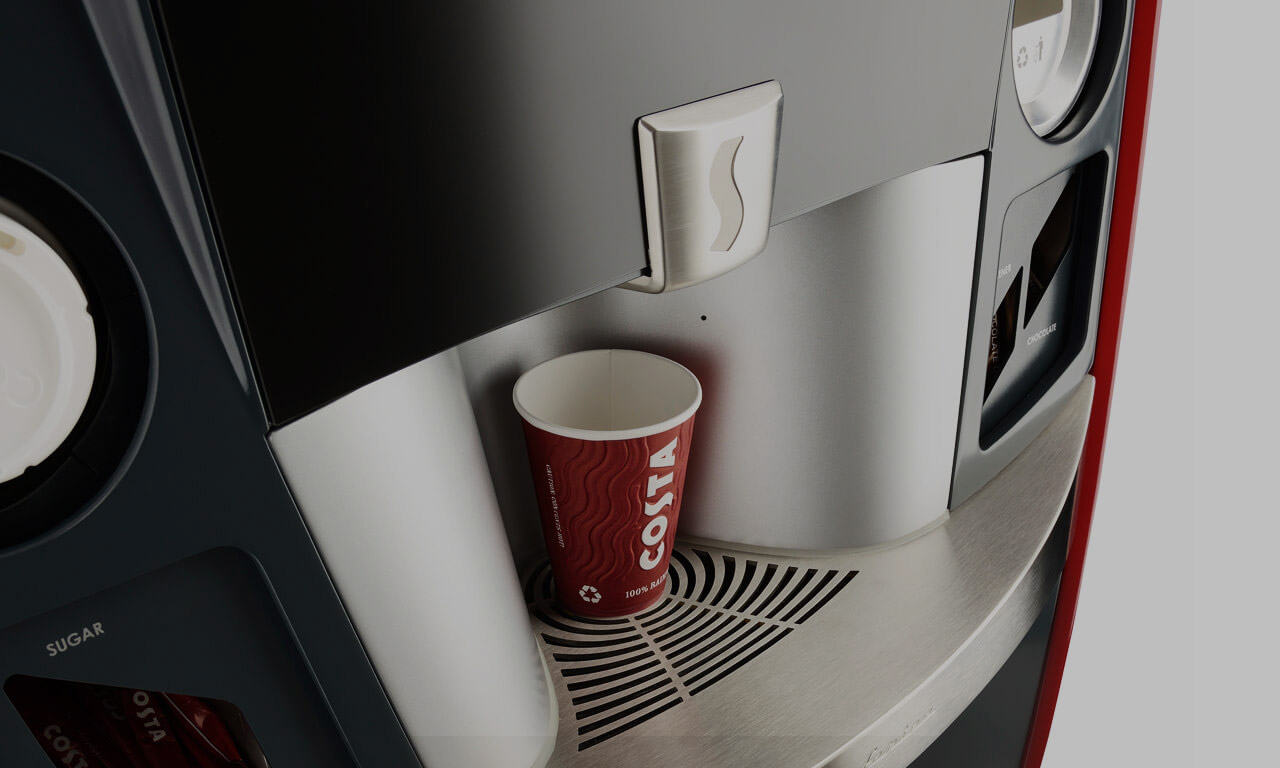 "The first vending machine to appeal to all five human senses"
Atomhawk have collaborated with Costa, and partners including Pininfarina and Intel, to create a next-generation self-service coffee experience.
Costa approached Atomhawk to help define the technology, customer experience and branding for this unique coffee machine, as well as to design the UI and UX for the machine's 28" capacitive touchscreen; delivering an intuitive interface and a catalogue of dynamic branding animations that attract users to the machine from afar.
The machine also contains a sophisticated sound system and facial recognition technology powered by Intel's AIM Suite.
Games Experience Brought to a New Audience
Atomhawk has a wealth of experience developing UI for games on all platforms, and that experience was brought to bear on a new audience with the CEM-200.
Vending machine UI has to be foolproof - users who feel frustrated with a system will just walk away - so Atomhawk created and tested interactive wireframes at a very early stage in the project.
Visual and functional refinement of the UI was informed by our user testing; the resulting UI helps users by politely pointing out what to do next when it senses they've not interacted for a set period. Even new users should be able to order exactly what they want in less than 30 seconds.

Attract Mode
Atomhawk went to Costa's Flagship store in Kensington to film footage for the 'attract mode' video that plays whenever the machine senses a user is not present.
This dreamlike sequence mixes diverse themes; Costa's Italian heritage, gourmet coffee, the true café experience and more, into a video that draws users to the machine.
Dynamic Branding
Atomhawk created over forty animations featuring the Costa Express logo - these charming animations play constantly on the machine and delight users. The animations can be used to highlight specific calendar events such as seasons, holidays, sports matches and more.
Watch a selection of these animations below:
World-Leading Vending Technology
The CEM-200 doesn't just feature our amazing UI and animations - Costa, Pininfarina, Intel and more all contributed excellence to make this machine the cutting-edge of self-service vending solutions. Find out more about this groundbreaking machine in the video below:
"With its deep digital gaming and Hollywood experience, Atomhawk has been a uniquely qualified partner in Costa's Mission 'To Save the World from Mediocre Coffee."

Jim Slater
Managing Director; Costa Enterprises